To hear two songs from the 2017 performance, watch the films below.
Will there be a home? Song from the Requiem Watch The Video
How lonely lies – Song from the Requiem Watch The Video
Next performance:  6th April | 2019 | 7.30pm
at St Andrew's Church, St Andrew Street, Hertford, SG14 1HZ
We are delighted to announce the upcoming performance of the Requiem,
sung by DeMerc Chamber Choir directed by Alison Smart Fisher
Admission is again free, and a collection will be taken for the Charity at the event.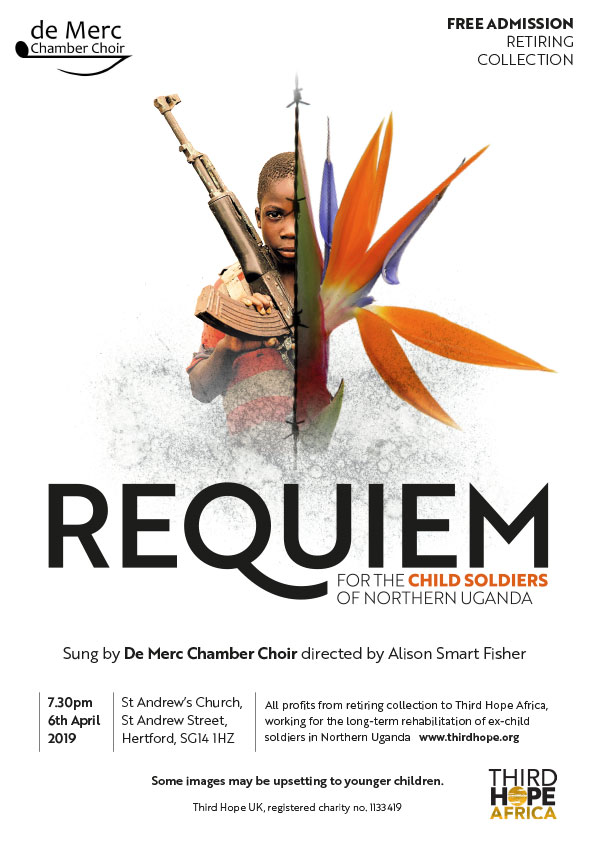 The Requiem is an hour-long piece of choral music, written specially to remember the suffering and grief of the Acholi people and the tragedy of their abducted children.
If you are interested in finding out more about the Requiem for the Child Soldiers of Northern Uganda, or would consider putting it on in a theatre or church near you, please get in touch via the contact page.
What is a Requiem?
The word 'requiem' means rest, and the heart of the sung Requiem is a prayer for those who have departed the world, that they will be granted eternal rest.
Usually, a Requiem will be sung for someone considered important or significant – a king or head of state. This Requiem is sung exclusively for the forgotten, for the powerless and for the unknown. It is dedicated to the child soldiers of northern Uganda.
For over twenty years, northern Uganda was ravaged by civil war. A war that will be forever marked out in history as one in which child-soldiers were brutally and systematically abused.
Many thousands were killed, their bodies never recovered because their families do not have the means to locate them for burial. The wider community is also too poor to help effectively. It is doing what it can to support but with so much need, it is struggling.
This Requiem is a small gesture in the vast sea of need, but it is a gesture nonetheless – a refusal to shut out their pain. And more than that, it is a commitment to share the suffering that is in the heart of the eternal father of us all and to do what we can to show love to those who need it.
We commit to remember these lives – the ones who died and the ones who are alive but still carry the scars of death inside them. This Requiem was written to say to them, "You are not alone".